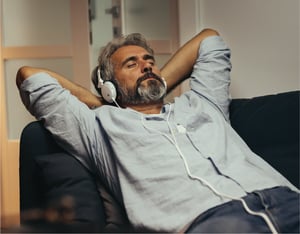 First, we cannot tell you how proud we are of our employees. The hard work and commitment you make to your job is amazing. You make us so proud every day.
But, for your own health, at the end of your day we want you to leave work behind and relax. Experts tell us that doing that is an important part of bringing balance to your life, rejuvenating your spirit, and avoiding professional burnout.
Bottom line, it's hard to help others if you aren't helping yourself.
Seven Tips for a Happier You
So, the next time you have a ridiculously hard day at work, here are some simple ways to relax your mind, recharge your battery, and put yourself in a happy, healthier place.
Unplug to Getaway
Your phone and email are so tempting, just a quick click away. But they also suck you right back into your workday. Turn them off. Put your phone in another room. Avoid your email. Unplug. Even a couple of hours away will help you relax and decompress.
Get Outside
Yes, we know we're entering the winter months, but dig out your warmest coat and coziest hat and scarf and spend some time outdoors. Being outside and enjoying a little nature does a body—and mind—good!
Break a Sweat
Join a cycling class, hit the gym, find a YouTube video at home to follow…it doesn't really matter what you do…what's important is to just move! It could be yoga, running, strength training, or barre, anything to get your endorphins flowing and your mind on something positive.
Soak in a Hot Bath
Not the exercise type? Ok, try a hot shower or bath. Either will help you relieve tension and soothe tight, tired muscles when you're stressed. The alone time is therapeutic and the peace and quiet helps you relax and let your mind unwind.
Let Music Carry You Away
Classical, pop, rock, punk…it doesn't matter what your flavor of choice, just get the music flowing and let your mind, your mood, and your spirit enjoy the ride.
Pick Up a Hobby
Another simple and inexpensive way to escape work stress is to find a new hobby. Whether it's painting, singing, bowling, or writing poetry, investing yourself in a hobby is a great distraction from work and an activity that brings joy.
Get More Sleep
Our bodies need time to rest and reset, which is why healthy sleep habits are essential for our well-being. Avoid caffeine before bedtime, establish a relaxing bedtime ritual, and ban smartphones from the bedroom to help ensure a peaceful night's sleep.
Life is about balance. Work is important. But so is getting away from work and finding time to relax. Stay well.
Sincerely,